---
NEW URL FOR HPL
Thank you for visiting the Horse Protection League's website.
We are changing our website URL from TheHorseProtectionLeague.com to
TheHorseProtectionLeague.org
to reflect our nonprofit status.
Please bookmark and use our new URL,
TheHorseProtectionLeague.org
, and watch for future announcements.
---
Yee Haw! Come to our annual Hoedown for Horses and Barn Dance, Saturday, June 20!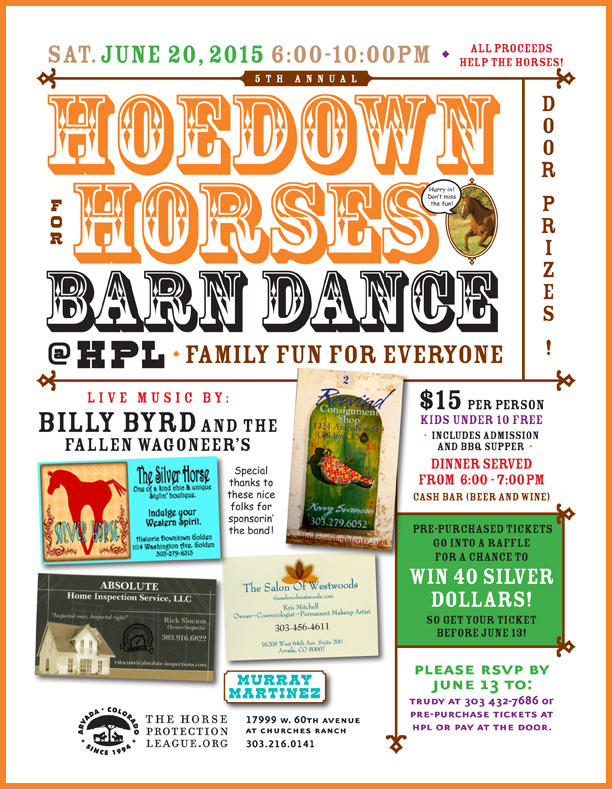 ---
Plan to Attend the Art for Horses Art Show!
Plan on attending our Art for Horses Art Show starting August 21, 2015 at the Lakewood Cultural Center. Download prospectus.
---
Meet Shadow, our newest filly!
---
HPL is in the News!
Click HERE to read our story in the Denver Post Arvada Hub.
---
Look at them now.

Maya and Maggie are making great strides.

On Saturday, August 23, 2014, Emie O'Neill, Barn Manager at HPL, got call from Arvada Animal Control about two horses that were in dire condition and needed a home where they could be properly cared for.

The Animal Control officers used a scale from 1 to 9 to evaluate what condition the horses were in. One horse was rated "1" the other was rated "2". Time was running out for these animals.

Shortly after the call from Animal Control came in to HPL, Emie O'Neill and two other HPL volunteers showed up to meet Arvada Animal Control officers at the horse property for a voluntary owner surrender from an elderly woman who could no longer care for the horses.

The horses were kept in horrible conditions. They were confined in small pens and were terribly neglected.

When the two horses arrived at HPL later that day, they were quarantined in appropriate pens and got immediate veterinarian and ferrier care…and lots of love from the folks at HPL.

Within a week their conditions were much improved. They have a new lease on life, and new names: Maya and Maggie.

Maya, a black Arabian, is thought to be around 31 years old and Maggie, a bay thoroughbred cross, is around 10 years old.

If you'd like to come out to the HPL ranch and visit our newest horses and observe their progress, visitor's hours are Wednesdays and Saturdays from 9 a.m. to 2 p.m. The HPL ranch if a fun place to visit for both adults and children, as well as school groups.

Maya and Maggie are just two more reasons that hope springs eternal at HPL.

For more photos of Maya and Maggie, click HERE.
---